Last night in our Hotel in San Pietro we met a group of American cyclists on an organized tour. It was fun to meet up with some fellow cyclists and compare notes. And since they had the same route planned for today as we did, we met again tonight, but this time not coincidentally. The members of the group all travelled at their own pace and to make their orientation easier, the tour guide rode ahead and marked their turnoffs with big white arrows. From San Pietro to Gallipoli we took advantage of these road signs tailored to the needs of cyclists and followed them right to the door of the hotel where they were staying.
The fact that they didn't have to carry bags or look for hotels made their kind of traveling look attractive, but on the other hand several of them said they would love to try doing a European tour on their own. And I must admit, the challenge of doing it on our own is the way we like it.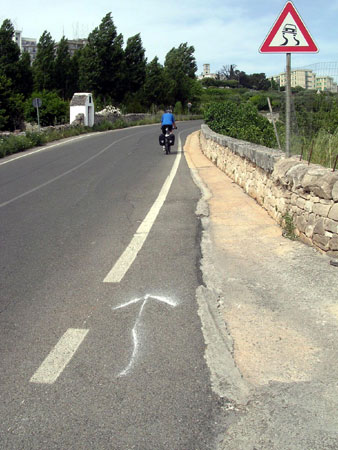 For a while we followed the white arrows marking the way for an organized cycling tour.